2013 Blast Zone Shipping Updates
Pirate Bay 2013 Updates
Crocodile Isle 2013 Updates
Spring 2013 New Additions
Blast Zone Manufacturing FAQ
Water Cannon Updates
Starting an Inflatable Biz?
Kid's Party Theme Ideas
2013 Blast Zone Shipping Updates
Since August 2012, all Blast Zone Inflatables will be shipped with the instructional safety and usage video. The Safety video is very helpful to explain the proper setup and breakdown for Blast Zone Bouncers and Slides, as long as how to provide the safest and most fun environment.
Blast Zone Safety and Usage Video
2013 Blast Zone Shipping Updates
Also in Spring 2013 all Blast Zone Inflatables will be shipped with multi Language Instructions. To better serve the global market Blast Zone now has the instruction manual available in the following languages:
1. English
2. Spanish
3. French
4. Portuguese
5. Dutch
6. Italian
7. German
Pirate Bay 2013 Updates
Blast Zone Inflatables are continuously being updated and improved with each new season. Blast Zone is happy to announce the popular slide Pirate Bay has received the following updates, based on your feedback:
• Extended netted area at top of slide, for extra safety.
• Structural upgrades virtually eliminate water entering the bladder, for easier cleaning, maintenance and storage.
• Improved water cannon design allows sprayer to be replaced and cleaned for longer product life.
• Increased wall height of bounce area.
Crocodile Isle 2013 Updates
Blast Zone Inflatables are continuously being updated and improved with each new season. Blast Zone is happy to announce the popular slide Crocodile Isle has received the following updates, based on your feedback:
• The "Tail Slide" has been redesigned with taller side-walls, for a safer slide experience from the top to the bottom.
• The "Climbing Ramp" has been redesigned with a safety step at the bottom and guard rails.
• The "Climbing Ramp" has been upgraded from "handle style" to pocket style, with handles for easier climbing and foot holes.
• Structural upgrades have virtually eliminated water entering the bladder, for easier cleaning, maintenance and storage of your slide.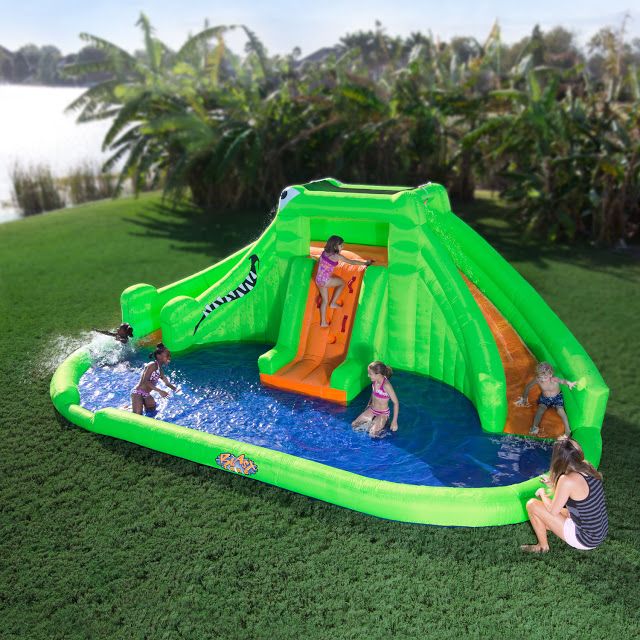 Spring 2013 New Additions
Look out for these new and exciting additions to the incredible Blast Zone Inflatable Line.
Spring 2013
The new 2013 line up of bounce houses and jumpers by Blast Zone is coming soon. From upgrades to new additions, Blast Zone has responded to their customer's needs by innovating new products and upgrading every single product. The 2013 release features a number of new residential and commercial-grade inflatables. Keep checking in to stay updated to the new products and when they will be available on our website.
Hydro Rush Water Slide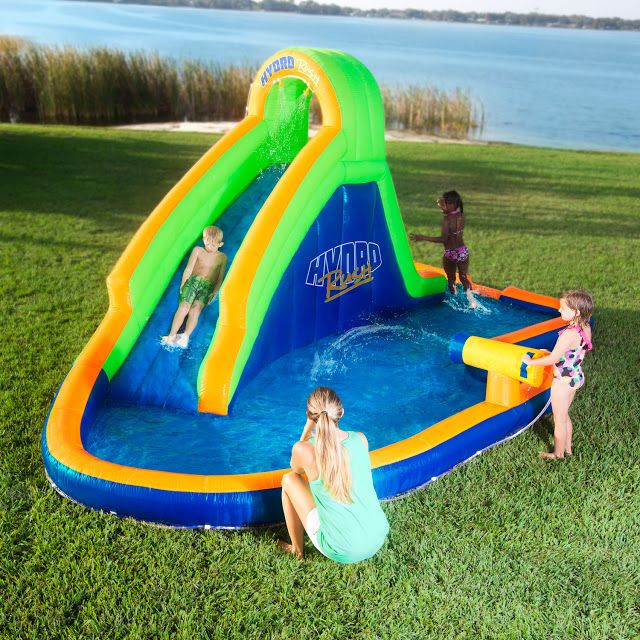 Spray and Splash 2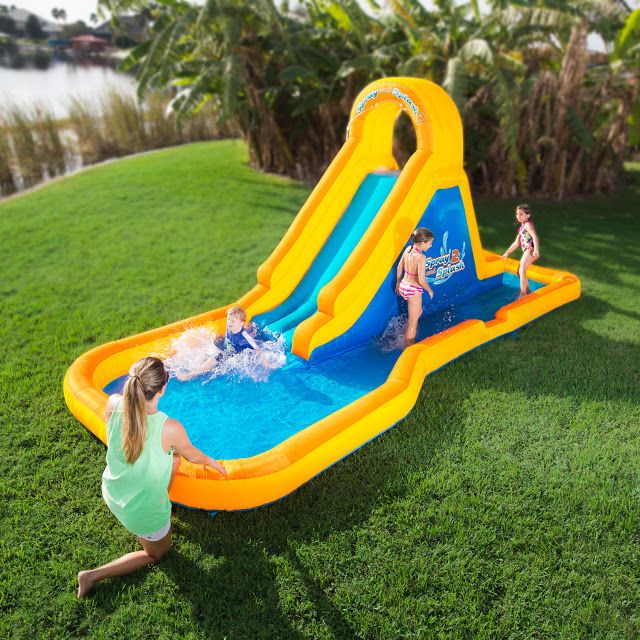 Blast Zone Manufacturing FAQ
1. What is the difference between Blast Zone Residential grade and Commercial grade inflatables?
Blast Zone Commercial grade inflatables are meant for continuous commercial use. These Commercial products are substantially heavier, and are designed to withstand frequent, long-term because they are made of a full commercial vinyl in all of its components. Blast Zone commercial inflatables are also designed to be insured, and adhere to ASTM standards for the manufacturing of commercial inflatables. Blast Zone Residential inflatables, manufactured for less-frequent use, are meant for families and homeowners.
Blast Zone home use inflatables utilize lighter commercial-grade materials for their bounce and slide surfaces, while using polyester oxford for their support components in the inflatable. These inflatables are designed to comply with ASTM Toy Standards, CPSC guidelines, and ASTM guidelines for Home Use Inflatables.
2. What is the weight of the vinyl used in your commercial inflatables?
Blast Zone commercial inflatables use a multitude of components in their products. Blast Zone uses everything from 72oz vinyl (for durable high impact areas) to 18oz vinyl for structural component surfacing (such as bounce, wall and slide surfaces), to 7oz (for non-structural areas such as castle towers) are used in assembly.
Impact surfaces (such as the bounce floor), which take the structural abuse in the inflatable, utilize 18oz vinyl. This 18oz vinyl is additionally reinforced up to "72 OZ." This layering process is achieved by permanently fusing together multiple sheets of 18oz vinyl, before the components are joined together. This creates a virtually impenetrable joint for ultimate durability and a more satisfied business owner. Also the high-grade webbing in the vinyl we use, which provides the material its tensile strength is very important to the durability.
Ultimately, Blast Zone's goal for their commercial Inflatables is to create the most durable, safe product possible that is manageable and practical for the owner. Over years of innovative production and hundreds-of-thousands of products created and sold, numerous safety and quality advancements have been achieved.
3. What is the difference in warranty for Blast Zone Commercial and Residential inflatables?
Blast Zone Commercial Inflatables have a 2-year full warranty on the bounce house. Blast Zone Residential Inflatables have a 90-day warranty on the bounce house. Both Residential and Commercial units come with a 1-year warranty on the blower also.
4. Do Blast Zone Inflatables meet the same standards as rental companies?
Yes, more and more rental companies and bounce centers are using Blast Zone Commercial Grade inflatables in their fleet. Blast Zone Commercial Grade inflatables are manufactured entirely of commercial grade high-tensile strength vinyl. Impact areas, using 18oz vinyl, are additionally reinforced up to 72oz using ultrasonic adhesion of multiple sheets of vinyl. Blast Zone commercial vinyl inflatables are manufactured to strict ASTM guidelines for commercial inflatable manufacturing.
Please beware of inflatables claiming to be "commercial grade," which do not use full commercial grade vinyl and membranes in their products. Some products in the marketplace do not conform to ASTM manufacturing standards, and will not withstand the rigors of regular commercial use. The specification of the vinyl, including the denier, thread count density, and vinyl weight are all very important to the integrity of the inflatable.
5. What are membranes and why are they important?
The membranes are what is inside of your inflatable and the part that you do not see. The membranes give the inflatable its strong structure , through sheets sewn into the inside of the inflatable. In bouncers and bounce houses, membranes are sewn along the bounce floor in a series of channels or tubes which attach the base of the inflatable to the top of the bounce floor at the seams. This gives the floor its rolling surface pattern, and it also allows the unit to bounce. The membranes will expand and contract as the user jumps up and down to allow for the bounce.
Blast Zone Commercial Inflatables use High-Tensile membranes, reinforced with a one-inch polypropylene reinforcement strip on the membranes attachment points. This results in flexibility in the membrane with added durability of the seams, because they are attached onto the reinforced areas such as the bounce floor, rather than directly to the membrane.
6. What makes Blast Zone products safer than others?
Blast Zone Commercial Inflatables are designed with safety as its priority. Each Blast Zone inflatable uses high tensile commercial safety netting for the walls and specific fall points. Blast Zone Inflatables provide more anchor points on the base than the engineering standards requires. Materials used in production are durable, non-toxic, and comply with ASTM. Blast Zone materials also comply with CPSC guidelines relating to toxins, lead and phthalates. We also regularly test and record raw materials per CPSC guidelines.
7. Are Blast Zone materials fire retardant?
Yes, Blast Zone materials comply with NFPA 701 Tests.
8. How heavy are Blast Zone Commercial inflatables?
Blast Zone Commercial Grade Inflatables Range from 100Lbs to 500+ Lbs for Blast Zone's larger bouncers. We recommend using a hand dolly to move larger inflatables.
Water Cannon Updates
08/2012
All Blast Zone water cannons have been completely updated as of August 2012. This update now makes the cleaning and rare maintenance required of your Blast Zone Inflatable easier by allowing the inside tubing of the cannon to be removed. This great upgrade applies to all Blast Zone bounce houses, water parks and slides that utilize water cannons.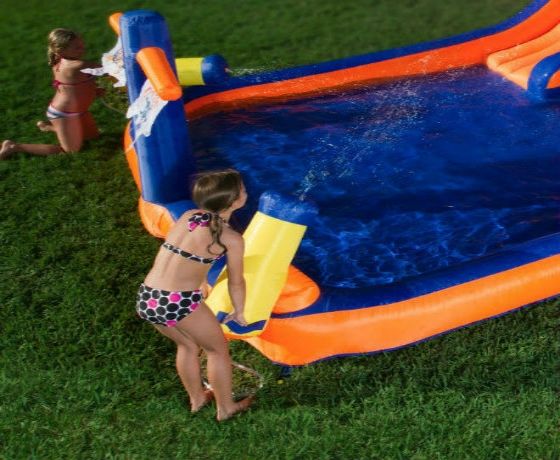 Starting an Inflatable Biz?
Are you looking for a change and wanting to embrace the world of entrepreneurship? Jump into the inflatable business! While it can be a great home business opportunity, there are very serious factors to consider before starting an inflatable business. There are six very important categories: operations, equipment, compliance, insurance, safety and advertising.
Operations
Bounce houses are typically used on weekends, so don't quit your day job! Start your business in your spare time. There is no need to start at full speed, so take your time. Begin with a relatively small investment while building incrementally as the demand for your product and services increase.
Keep in mind that you will need a large enough vehicle to deliver the inflatable. Also, have enough manpower to move the units. They can range from 100 to 400 pounds. You will definitely need a
Commercial Grade Blast Zone Bounce Houses
Also consider purchasing a generator because power is not always available and you will need this to operate the blower. All listed directions need to be followed and you will need to train your customers, so keep these handy as it is a requirement by most governing bodies.
Important paperwork is a must in this line of business. This paperwork includes, but not limited to, rental agreement and release of liability forms. Always pay attention to detail and dot your "I's" and cross your "T's". This will keep your business afloat!
Equipment
Stay away from inexpensive bounce houses. While they can be great for home use, this type of inflatables should not be used as rentals. In some cases they may be illegal to rent! You and your equipment are the two major assets to your new business. Always be ethical and honest and ensure your equipment is safe, durable and attractive. You should plan on spending approximately $1,000 to $2,000 for inflatables that will be suited for rentals at birthday parties, etc.
Blast Zone's
Commercial Grade Blast Zone inflatables
are made of commercial grade PVC material. The extra investment will pay off because of the durability of Blast Zone inflatables. They will continue to pay off for a long time as well as keeping your patrons happy. The Blast Zone warranty will be voided is you choose to use a residential bounce for commercial use.
Compliance
Individual state requirements should always be checked. Business ownership laws need to be followed (i.e., sales tax laws, business permits). There are also rules of the industry that need to be maintained. You will need to do some investigating as each state has its own requirements. Some states will consider your business an "Amusement Attraction Owner/Operator. Make sure you comply with these requirements. Pay special attention if you will operate your business in New Jersey or Pennsylvania - they are most strict. Following the rules will protect both you and your clients. It is imperative to comply with safety and insurance regulations because you will be providing amusement attractions for children.
Only two states, Pennsylvania and New Jersey, require inflatables to pass safety and engineering standards before equipment can be rented. All states are different and have different levels of inspection standards and certification
Insurance
While not all states require insurance, it is not recommended that you operate your business without proper coverage. There are two problems that could potentially arise if a customer were to be injured on an uninsured attraction: 1) the customer may not receive proper medical coverage; and 2) the business owner will most likely be shut down and ultimately sued without any protection from the insurance company.
Safety
You should always use common sense practices and expect the same from your customers. Bounce houses are safe; however adult supervision is necessary at all times. Injuries can occur when a child is left unattended and when they choose not to play safely. Inflatables should never be used in the rain or wind. At all times the inflatable should be anchored – no exceptions! Keep in mind that the blowers run on electricity, so they should never be exposed to water.
Advertising
The most effective ways to get your business up and running are word of mouth and the Internet! Also, try attaching all of the inflatables with a sign that includes your contact information and company logo. Take advantage of this type of advertising because everyone who drives by a neighbors yard will take notice of a bounce house. It's a great way to gain exposure. You can also donate your inflatable when it's not being used. Examples are donating to a church or little league event; just to name a few. This will give you great exposure and remember, it is a great tax write off! Most importantly, be creative and have fun because people love inflatables.
Return To Index
Kid's Party Theme Ideas
Create memories that will last a lifetime by celebrating your child's life with a special "themed" party! We have put together seven fabulous themes; start with a Blast Zone inflatable and then customize by adding coordinated decorations, cakes, invitations and more! Please see the below links for Blast Zone's featured inflatables.
1. Princess Party
The most popular themed party for little girls is a princess party. We recommend the Blast Zone Princess Dreamland Bounce House. It is sure to be a big hit and a great focal point.
Princess Dreamland Bounce House
2. Pirate Party
Boys and girls of all ages will enjoy a pirate party theme. Encourage your guests to get in on the fun by setting up the Blast Zone Pirates Bay Inflatable Play Park.
Pirates Bay Inflatable Play Park
.
3. American Idol / High School Musical Party
Create a star-studded event by adding a Blast Zone SuperStar Moonwalk Bounce House along with a karaoke machine, musical party favors and a microphone-shaped cake.
SuperStar Party Moonwalk Bounce House
4. Outer Space/Astronaut Party
Add the Blast Zone Quantum Leap Bounce House to your outer space party and serve a "moon" cake. Both boys and girls will enjoy this party theme.
Quantum Leap Bounce House
5. Medieval/ Knights Party
A variety of Blast Zone's inflatables will fit this type of themed party. We suggest the Ball Kingdom Bounce House, Magic Castle Bounce House or the Misty Kingdom Bouncer and Water Park. One of these inflatables will turn your party into a medieval adventure. You can present each guest with a crown and tunic (tunics can be made from pillow cases). Another great idea is to address the invitations in calligraphy.
Magic Castle Bounce House
Ball Kingdom Bounce House
Misty Kingdom Bouncer and Water Park
6. Jungle Party
For a summer party, the Blast Zone Rainforest Rapids Amusemant Park can be used wet or dry. Create an outdoor jungle by filling up the "Tiki Lagoon" with water. Add a wild animal piñata to complete your outdoor jungle. If it's too cold to use the water feature, transform the lagoon into a ball pit by adding party balls.
Rainforest Rapids Amusement Park
7. Transportation/ Monster Truck Party
We recommend the Rock Crawler and Ball Pit – don't forget lots of party palls for the ball pit! Your high-energy child will love this unique theme. Add decorations such as checkered flags and attach card stock to small trucks to use as invitations.
Rock Crawler Bouncer and Ball Pit
Return To Index
This article is written by Shopping Bug at
Google +